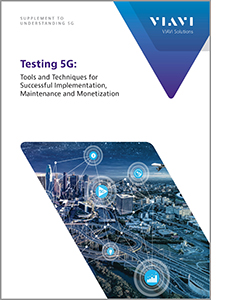 As 5G moves from a concept in the lab to service deployment in the field, engineers, technicians and installers are grappling with the myriad of challenges of ensuring that rollouts meet both the profitability use case for the service provider and the staggering advances in service levels expected by the end customer.
A supplement to the VIAVI book,
Understanding 5G
,
Testing 5G
explores the three phases of 5G test and measurement–Validation, Verification, and Visibility–and the essential elements of each phase. Here's a preview:
Validation
5GNR–the challenges of beamforming and massive MIMO
Network Disagregation and O-RAN
Network Slicing
MEC Testing
Core Network Testing
Security Performance Testing
Verification
Fiber Inspection
OTDR Test
WDM
Fiber Monitoring
Timing and Sync Testi
Fronthaul Network Test
Ethernet Test
RAN Test
5G Beam Analysis
Antenna Alignment
Visibility
Network Slicing
Monetization
In addition, Testing 5G provides you with insights on the challenges of deploying and managing O-RAN based networks.